Have you ever wondered why children tip their chairs forward onto the front legs. It is not always because they are being naughty, in fact it very rarely is. It is more likely to be that they are uncomfortable. They have recently developed their 'grown-up' back curves and we are asking them to sit in chairs that slope backwards and cause their lower backs to bend in the wrong direction. All they are doing when they sit on the front of their chairs and tip them forwards is trying to get into a more comfortable position that doesn't stretch ligaments and put increased pressure on their discs and joints.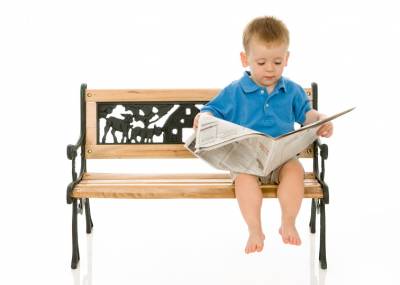 It is estimated that children spend 12,000 hours sitting at school and yet most chairs would be illegal in the office workplace. Add to that the propensity of most children to slouch and compounded on top of that the fact that they are going through some significant growth and you have a very significant 'worse case scenario' on your hands for the health of their backs in later life.
Recently research has placed a lot of focus on the effects of school bags on children's backs, however more and more research is now focusing on the effect of prolonged sitting in children. Recent research published* has shown a significant link between sitting and upper and lower back pain in children and adolescents.
A few key elements were found to be critical in this link between back pain and sitting. These were: sitting duration, activities while sitting, dynamism and postural angles. It was found that that an increase in the time a child had to sit for as well as a lack of movement while sitting led to an increase in the incidence of back pain in children.
As a parent this raises a lot of concern with regard to your child's health, but what can you do about it. Below are a few tips to help prevent the development of back problems for your child:
• Ensure a weekly clear out of your child's bag takes place and remind your child to remove unnecessary books
• Provide a backpack style school back and check that it is properly adjusted, as well as ensuring that your child wears the straps over both shoulders. The bottom of the bag should be resting in the curve of the lower back
• Weigh the backpack regularly to ensure that it is within the safety weight range of 15% or less of your child's body weight
• Try and win the function versus fashion battle with your child's school shoes
• Lobby your child's school to provide lockers
• Encourage some form of exercise after school, whatever it may be, to prevent your child from moving straight from sitting at school to sitting at home
If your child is already suffering with pain, it may be worth while having a spinal check up to make sure that there is nothing more serious going on. Surrey Osteopathic Care specialises in the treatment of children, so you know that your child will be in safe and knowledgeable hands. Please visit www.surreyosteopathiccare.co.uk for more information
Continue reading