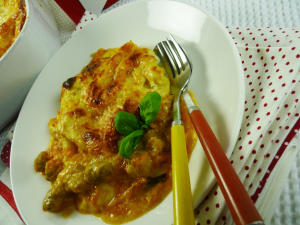 We can all feel a tad uninspired about what to cook for family mealtimes. It is often difficult to come up with meals that suit both adults and children, meals that are healthy, tasty, easy to cook and take into account any fussy little eaters!
Shirlee Posner

, who has an MSc in Food Policy, shares a few of her tea-time favourites. She's even included handy PDF versions that you can easily print and keep (these will be uploaded to the website later today). The recipes offer suggestions for alternative ingredients to suit different tastes, and many can be frozen to use on those extra chaotic days...
Large tray sausage

lasagne
(Makes enough to fill a 40 x 30cm x 5cm deep roasting pan) The vegetables in this recipe are grated so you can get a good portion in silently. I usually serve one meal fresh and then freeze the rest - you should get 12 freezer portions, depending on your children's age and appetite. Lasagne is a filling and calorific dish so if you want to serve a side dish, make it a fresh leaf salad or some freshly steamed vegetables rather than garlic bread or chips.
For the meat sauce:
2 x 10ml spoons extra virgin olive oil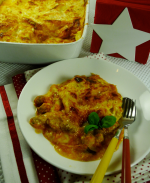 1 large red onion, finely chopped
3 cloves garlic, crushed
2 large carrots, peeled and grated
2 x 400g packs of Italian sausages, skin removed and broken into small pieces
1 - 2 x 5ml spoons dried Italian herbs (use fresh if you have them)
2 x 400g cans chopped tomatoes
1 x 15ml spoon tomato puree
1 x 15ml spoon balsamic vinegar (optional)
Freshly ground black pepperlasagne sheets
Method:
1. Heat the oil in a large saucepan and stir-fry the onions and garlic until softened. Add the carrot and sausage meat; continue cooking over a medium heat stirring occasionally until the meat has browned.
2. Stir in the herbs, tomatoes, puree and vinegar. Cover the pan with a lid and simmer for 40 minutes. Whilst this is cooking prepare the white sauce.
White sauce:
I make my white sauce with cornflour for this dish as the method is quick, guaranteed lump free and reduces the fat content. Since it's combined with lots of other flavours, the compromise on texture is not noticeable. The sauce is not very thick but this will change when you add the cheese, and the dried pasta will soak up the rest of this moisture during cooking.
750ml whole or semi-skimmed milk
3 x 10ml spoons cornflour
1 x 5ml spoon English or Dijon mustard
100g mature cheddar cheese, grated
100g Parmesan cheese, finely grated
Method:
1. Place the milk in a saucepan and bring to the boil. Mix the cornflour to a smooth paste with a little extra milk and stir into the hot milk. Reduce the heat and simmer stirring continuously for 2-3 minutes.
2. Remove the pan from the heat and stir in the mustard, seasoning and Cheddar cheese.
To assemble the lasagne: Measure out 200ml water in a jug – you will need this to pour equally over each layer of pasta. The pasta becomes soft by taking moisture from the meat and white sauce, so adding water stops the finished dish becoming dry.
Using a soup ladle, put a layer of meat sauce on the bottom of the roasting pan. Cover this with a single layer of pasta and 100ml water. Cover the pasta with another layer of meat sauce and a layer of white sauce. Sprinkle over a third of the Parmesan cheese. Repeat this, finishing with a layer of white sauce and cheese. Leave the lasagne for 30 minutes to absorb moisture before baking in a medium hot oven (180C/fan 160C/gas 4) for approximately 45 minutes or until golden on top. After your meal, chill any leftovers in the refrigerator overnight before cutting into portions to freeze.
Top tips:
Try using thickening granules instead of

cornflour

. This takes another step out of the cooking process as you can add them straight to the hot milk. Using a whisk makes sure the sauce doesn't get lumpy.
Use good quality sausages with a low fat content. Some of the

flavoured

ones from the supermarket premium ranges are good, especially Italian style or Toulouse. To remove the skins, simply split them down the middle with a sharp knife and remove the sausage meat then roughly chop.

Click to download a PDF version of the Large tray sausage lasagne.
Great goujons
For 4 younger children (or 2 older ones)

Ingredients:
75g dried natural breadcrumbs
1x15ml spoon finely grated Parmesan (optional)
Freshly ground black pepper
1-2 eggs, beaten
225g chicken mini fillets (you can leave these whole or cut into smaller chunks)
Some spray oil
Method:
1. Pre-heat the oven to 200°C, 180°C fan, gas mark 6.
2. Place the breadcrumbs in a shallow bowl, stir in the Parmesan cheese and season.
3. Crack the egg into another shallow bowl and beat with a fork.
4. Dip each piece of chicken into the egg and then the breadcrumbs.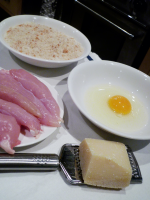 5. Place the coated pieces on a sheet of baking paper and spray with oil.
6. Cook in a hot oven for 10-15 minutes until cooked through and crispy on the outside.
Top tips:
Use a meat hammer! If you have irregular size pieces of meat they will all cook at different times. A meat hammer acts as a mechanical tenderizer and allows you to control the shape a bit more. Very useful for pork, turkey and chicken, but does not work well on fish (hence the name).
Try adding different

flavours

to the breadcrumbs: my kids love ground almonds and chopped fresh rosemary.
Variations: chunky cod loin and turkey breast also work really well with this recipe.

Click to download a PDF version of Great goujons.
Creamy cheesy pasta
This recipe can be modified to suit the contents of your fridge. I used to cook this in the oven before serving but my kids hated the crispy texture that formed on the top so I started serving the pasta tossed in the creamy sauce. This dish is made in around 15 minutes. This classic white sauce is also good as a dip for steamed vegetables like broccoli, cauliflower and green beans. For a guaranteed no-lump consistency, make sure you use a whisk throughout. You can get a silicone magic whisk from good cook shops, which protect non-sticks pans.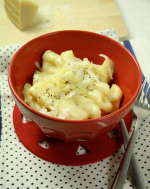 For 4-6 hungry children
Ingredients:
350g pasta penne, twists or shells
500ml semi-skimmed milk
35g butter
35g plain all-purpose flour
100g mature cheddar, grated
100g Edam, gouda or gruyere cheese, grated
Freshly ground black pepper
Method:
1.Cook the pasta and whilst it's cooking, make the sauce.
2. Put the milk into a jug and heat for 2 minutes in a microwave.
3. Melt the butter in a saucepan and stir in the flour. Remove from heat and whisk in the milk. Return to the heat and bring to the boil gently, stirring continuously.
4. When the sauce has thickened, simmer for 2-3 minutes to ensure the flour has thoroughly cooked. Remove from the heat and stir in the cheese and seasoning.
5. Pour the sauce over the cooked, drained pasta and serve immediately with the remaining cheese to sprinkle.
Top tip:
Delicious served with a plate of crunchy finger vegetables.

Click to download a PDF version of Creamy cheesy pasta.
Magic meatballs
These are fantastically versatile and leftovers are great in lunchboxes. Should serve 4-6 children with enough to freeze or for lunchboxes.

Ingredients:
1x10ml spoon vegetable oil
1 red onion, finely chopped
500g finely minced beef, pork, lamb or chicken
2 eggs
Freshly ground black pepper
3x15ml spoon natural breadcrumbs
Some vegetable oil to cook
Method:
1. Heat the oil and sauté the onion gently until soft, then cool before mixing with the meat.
2. Put all the ingredients together in a bowl and mix thoroughly. Use an idea from the list below to personalise.
3. Take heaped teaspoons of mix and shape into balls and flatten slightly, fry gently in a little vegetable oil on both sides until cooked through. Drain on kitchen towel and serve. Alternatively, place on a sheet of baking paper and spray with oil and cook in a hot oven for 15-20 minutes.
Top tips:
Make larger patties and serve in burger buns with salad and relish.
For variations just add the following to the basic recipe:

For beef:

1x15ml

spoon tomato puree or

1-2x5ml

spoons curry powder or paste.

For pork: 1 teaspoon grated fresh ginger and a clove crushed garlic or 1x15ml spoon crunchy peanut butter and a 1x15ml spoon soya sauce.

For lamb: 1x15ml spoon fresh chopped mint or 1x15ml spoon of fresh chopped rosemary and a clove of crushed garlic.

For chicken: 1 small apple grated or 1 sweet potato and 1x5ml spoon mixed herbs.

Also delicious tossed in some tomato sauce with pasta.


Click to download a PDF version of Magic meatballs.
Tomato and mascarpone sauce
This recipe is for a velvety smooth tomato sauce – the fact that it is pureed means that you can disguise some vitamin-packed vegetables. You don't need to add the

mascarpone and could use cream or crème fraiche instead. It just enriches the sauce and gives it a creamy flavour.
Ingredients:
1 tablespoon extra virgin olive oil
1 large red onion, finely chopped
2 cloves garlic, crushed
1 large red pepper, de-seeded and roughly chopped
1 large carrot, peeled and diced
1 large courgette, roughly chopped
2 x 411g cans of chopped tomatoes or 800g fresh tomatoes
1 tablespoon tomato puree or 1 sun dried tomato
1 tablespoon of freshly chopped basil leaves (optional)
100g mascarpone
Salt and freshly ground black pepper
Method:
1. Heat the oil in a medium sized saucepan then add the onion and garlic. Stir-fry for 5 minutes then add the pepper, carrot and courgette. Put the lid on the pan and sweat the vegetables over a low heat for 8-10 minutes, making sure they don't brown.
2. Stir in the tomatoes, puree and herbs. Cover the pan and simmer for 15 –20 minutes.
3. Stir in the mascarpone and puree in a liquidizer or food processor until smooth. Return the sauce to the heat and season to taste.
4. Serve immediately with freshly cooked pasta penne or shells.
Top tips:
Leave out the

mascarpone

and use as a base for

bolognese

, sausage pasta sauce or add some magic meatballs. This is a versatile sauce that forms the base for many meals in my house.
To freeze, allow to cool for 1 hour then ladle into freezer bags. Try using 'pour and store' bags available at most supermarkets as they take up less room in your freezer and are really strong.

Click to download a PDF version of Tomato and mascarpone sauce.
Shirlee Posner lives in Guildford and has two children aged 16 and 11. Her career with food spans 30 years in both in her early career as a chef and later as an academic at South Bank University and more recently at Surrey University. Up until the recent cuts in government funding, Shirlee was the regional manager for Food in Schools for the South East of England. You can see more of her work and sign up for her food blog here www.shirleeposner.com.