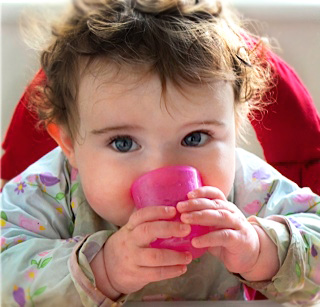 Weaning your baby off a sippy cup can be a messy affair - but experts say open cups are better for dental health and should be encouraged from six months. That's a lot of water and juice for you to mop up!
That's why we are loving these Babycup little cups. They seem like a great idea because they don't hold too much liquid and the rim is just the right size for a baby/toddler's mouth. A full-size cup is obviously going to be more tricky for them sip from and it's no wonder their drink pours out the sides at the same time.
The Babycups are also a perfect size for little hands to hold and... well we just think they look cute, especially in all the different colours they come in!
The cups have also got measurements on the side, so you can see how much your child is drinking and an added advantage is that they are much easier to clean than a cup with a spout (no arguments there!).
We are not the only ones loving these - there are plenty of endorsements from dental experts on the website, explaining just why it is so important to get the right cup for your baby.
Babycups cost £8.99 for a pack of four and are available from the Babycups website.