Fancy a festival? There's plenty of family friendly options to choose from throughout the summer in Surrey.
We can't guarantee the weather, but all these festivals, shows, carnivals and day events come recommended by other parents so we're sure you'll have a good time.
There are festivals for all tastes and interests – from music to food, agriculture to traditional fairs. They are all family friendly, many of them including things like arts and crafts activities, face-painting and the ubiquitous bouncy castle.
We've tried to include all the Surrey festivals here (and a few that are slightly further out) but please let us know of any other gems you know about. Oh, and they are in date order, just to help with your planning…
Weyfest – August 17-19
This is a music festival that still allows you to enjoy the finer things in life – nice loos, lovely wine, fine foods and even cocktails and champagne!
The line-up this year includes Aswad; 10cc; The SAS Band featuring Roger Taylor, Madeline Bell, Paul Young, Toyah and Chris Thompson; Hayseed Dixie and The Christians.
The event takes place at the Rural Life Centre and has plenty for the kids including steam train rides, Laserquest, The Racing Bug, Daleks, Cybermen, Stormtroopers and more.
Website: http://www.weyfest.co.uk/
Victorious Festival – August 24-26
Victorious takes place in Portsmouth but since it has been named one of the best family festivals, we thought it was worth a mention.
The line-up this year includes Paul Weller, The Libertines, the Kaiser Chiefs, Paloma Faith and Brian Wilson and The Prodigy.
The kids' arena includes a stage featuring Mr Bloom, Peppa Pig and Paw Patrol. There will also be an adventure zone, science tent, parkour performances, a nerf arena and more.
Website: http://www.victoriousfestival.co.uk/
Egham Royal Show – August 25 & 26
Dog displays, a boating pond, falconry, archery, electric go-karting, fairground rides, tombola, comical Punch & Judy shows, a bouncy castle and live music – this is so much more than just an agricultural event. It does of course also have all the animals: rare breeds of cattle, pigs and sheep, livestock competitions and an educational section on the narrative of milk.
Website: http://www.eghamroyalshow.org.uk/
Godstone Fete and Donkey Derby – August 27
This event includes lots of family fun including Punch & Judy, bouncy castle, coconut shy, dog show, gymnastics displays, stalls and more.
Website: http://www.godstonefete.co.uk/
Woking Food and Drink Festival – Aug 31 – Sept
A FREE festival dishing up days of live cookery demonstrations, celebrity chefs, family activities, workshops, live music and street entertainment.
All the activity takes place in Woking town centre.
Website: https://www.wokingfoodanddrinkfestival.co.uk/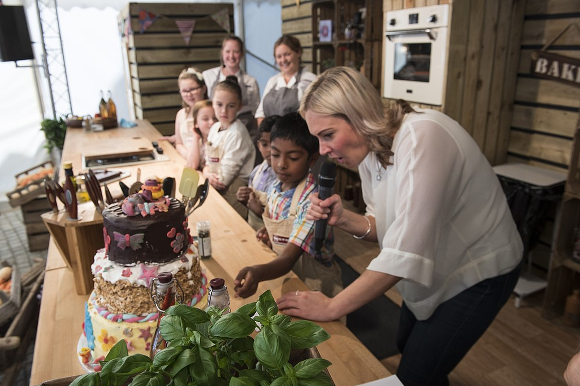 Haslemere Food Festival - September 22
It's time to celebrate food! This event includes tastings, live demonstrations and stalls featuring a delicious array of different food and drink. The festival also has a children's zone with lots of entertainment and activities.
This event takes place at Lion Green and is FREE to attend.
Website: http://www.haslemere.com/foodfestival/
Farnham Food Festival – Sept 30
Sample some delicious foods, get some tips from chefs, watch cookery demonstrations and enjoy live music from local talent – what's not to like!
The festival hosts over 100 producers selling a variety of products and takes place in Castle Street.
Website: https://www.farnham.gov.uk/events/farnham-food-drink-festival
Guildford Book Festival October 7-14
Children's illustrators David Roberts, Yuval Zommer and CBeebies Olobob Tops illustrator Leigh Hodgkinson have already been confirmed for this year's book festival.
Events take place at venues across the town over 10 days and include appearances by high profile writers. See the website for more details of individual events.
Website: http://www.guildfordbookfestival.co.uk/
What we love about all these festivals and shows is that both children and parents can have a great time. We hope you enjoy!