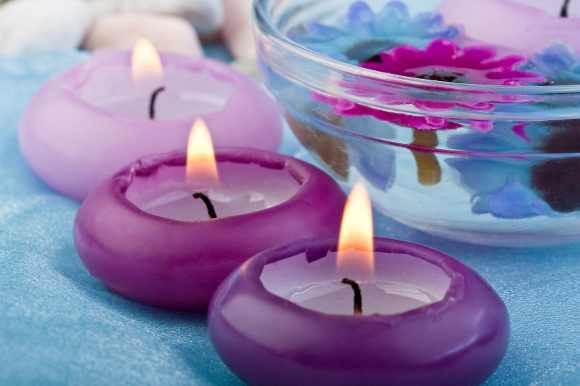 Introducing massage and holistic therapies from Beth Benneyworth at Purple Utopia. A qualified massage and holistic therapist based in Walton-on Thames, I can offer my clients various therapeutic treatments in a calm, soothing environment. Qualified in many massage therapies, I offer pregnancy massage, manual lymph drainage massage, reflexology, and I am also a Reiki Master Practitioner. Please note that I do not massage during the first trimester due to the potential risk miscarriage.
Pregnancy Massage
As well as aiding relaxation, pregnancy massage supports the body during the physiological changes, and helps prepare the whole body for birth. It also has an indirect relaxing effect on baby, as mother releases oxytocin and prolactin, due to the skin stimulation. As with all types of massage therapies, there are many health and well-being benefits with pregnancy massage, including; lymph drainage and stress and pain relief. This treatment also release vital 'good' hormones, supports and prepares the body and aids sleep.
I also offer a longer appointment, at no extra charge, where the partner can attend and learn some basic techniques for massage during labour, this not only helps mum, but also helps the partner to feel included.
Massage during pregnancy is not always recommended, therefore, prior to an appointment, clients will receive a pregnancy massage pack, with information and questions. I also conduct pre-massage tests for DVT and Pitting Oedema before starting any body work.
Post Birth Massage
Having post birth massage increases the circulation, boosting the lymphatic system. The lymphatic system not only delivers nutrients around the body, but it removes waste from around the body, which assists with the reduction of cellulite and stretch marks. In turn this can make mum feel better about herself, and also gives her some down time, which can help immensely when dealing with the demands of new motherhood.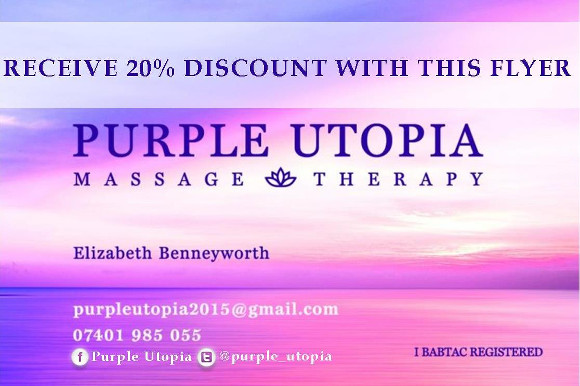 All available treatments
Swedish Massage
Reiki
Indian Head Massage
Crystal Healing
Hot Stones Massage
Ayurveda Therapy
Reflexology
Manual lymph drainage
Pregnancy Massage
Colour Therapy
Aromatherapy
Facials
Packages
Bespoke packages are available on request. All packages must be paid in advance and cannot be used in conjunction with any other discounts.
10 pre-natal sessions £300.00*
10 pre-natal sessions plus 3 post-natal sessions £450.00*
*Saving £200.00
Indian head massage
Due to issues that arise from lying on your stomach, after 22 weeks, massage to the back of the body is conducted whilst lying on your left side. Some people may find this uncomfortable, but will still want the relaxation benefits of a massage; therefore, Indian head massage is a good option. The client is seated for this treatment; no oils are used and the client remains fully clothed.
IF YOU ARE IN ANY DOUBT IF MASSAGE IS APPROPRIATE IN YOUR PREGNANCY, PLEASE SPEAK TO YOUR GP OR MIDWIFE.
Reiki
This is a natural healing energy that works on every level. It is a non-invasive treatment that can be used safely with all healthcare. This is ideal for clients who don't like massage, as it can be given with or without touching, and the client is fully clothed. Further information about Reiki can be found on the UK Reiki Federation website www.reikifed.co.uk
Special Offer
All new clients will receive a 20% discount and a goody bag with this offer.*
*Not to be used in conjunction with any other offer excluding packages.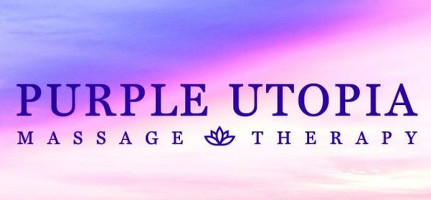 Member of: UK Reiki Federation, BABTAC, International Alliance of Holistic Therapists, Federation of Holistic Therapists, International Alliance of Neuro Linguistic Programming and Coaching
T: 07401 985055
F: Purple Utopia T:@purple_utopia
E:

This email address is being protected from spambots. You need JavaScript enabled to view it.

Opening hours: 10am – 8pm Monday to Saturday
Website www.purpleutopia.co.uk