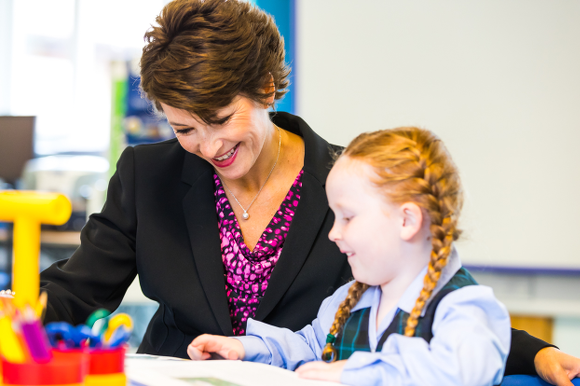 Girls are free to be who they want to be at Manor House School. Our vision is to ensure that girls leave with the academic qualifications and confidence to pursue their dreams and ambitions; with qualities that ensure integrity and kindness and with experiences that foster a better understanding of democratic ideas and responsible citizenship. Find out more...
Manor House School are holding a Reception Taster Morning on Wednesday 18 October 2017, 9.00am – 12.30pm.
A morning of themed activities to celebrate World Heroes Day for girls aged 3 to 5 years. Sign up for our Reception Taster Morning and find out why there are no stereotypes at Manor House School. #FutureLeaders
Please call 01372 457 077 or email This email address is being protected from spambots. You need JavaScript enabled to view it. to reserve your daughter's place.
Following on from our award-winning pre-school, the Seven Areas of Learning continue to be the focus of achievement in our reception class and form the foundations of our curriculum, which is based on the Early Years Foundation Stage framework.
Our teaching staff considers the individual needs, interests and stage of development of each girl in our care and provide a challenging yet enjoyable experience in all the areas of learning and development.
We recognise that play is essential for children's development, building their confidence as they learn to explore and allowing each girl to take the first steps to becoming an independent learner. A careful range of self-initiated and adult-led activities are provided to promote risk-taking, creativity, curiosity and independent thought.
Our reception class is housed in excellent purpose-built facilities, with large, modern and light classrooms with access to a dedicated all-weather playground. Pupils benefit from having full access to whole-school facilities, including an assembly hall, a sports hall, a swimming pool, extensive playing fields, an outdoor learning area (The Dell) and specially designed cookery, music and drama rooms.
As part of their physical development, we provide opportunities for the girls to be active and interactive, to develop their co-ordination, control and movement. Reception pupils learn a range of basic sports skills aimed at developing agility, balance and general fitness. Girls continue to have specialist teachers in PE, music and French and also have dance lessons as part of their curriculum. In Reception Year, they learn the violin as an additional specialist lesson.
We work hard to build a caring, family-style environment where our happy girls flourish in their learning and personal development. We encourage strong links between school and home through 'Meet the Teachers' evenings, regular written reports, parents' evenings and an 'open door' policy.
There are no stereotypes at Manor House School and girls are free to be who they want to be. Sign up for our Reception Class 2018 and join us at our Reception Taster Morning on Wednesday 18 October from 9.00am to find out more #FutureLeaders.