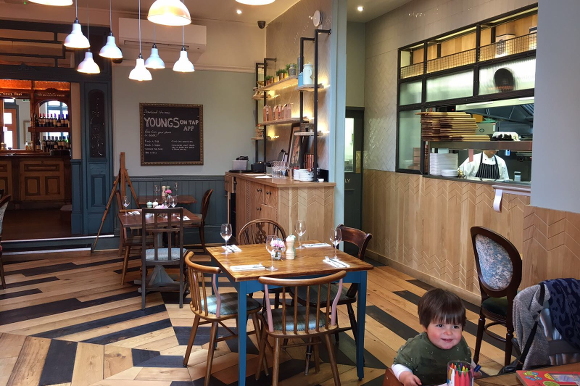 We often find ourselves struggling to come up with venue ideas for meeting with friends who live in the Big Smoke… They don't want to travel too far out of town and we're not mad keen on fighting all the traffic which comes with a trip to our old stomping grounds. However, we've discovered a real gem recently which is a great suggestion for such occasions… the newly refurbished Victoria in Surbiton.
With Surbiton's fast rail connections to Wimbledon and Waterloo, as well as its relative proximity to the A3, it is easily accessible for both London and Surrey folk. And the team at the Victoria are very happy to welcome you and your kids.
It's a fantastic space. It has been recently refurbished to retain its old charm but bring it bang up-to-date with rooflights creating a light airy feel and a stunning outside area complete with its own separate bar and Burger Shack. My 8 year old thought it was seriously cool, and we were inclined to agree!
The menu is varied and there was a lot to tempt the palette. We started by sharing the bread board and cucumber, beetroot and quinoa salad, both of which couldn't be faulted. We then tried the fish and chips and one of the many wraps which are on offer, with fries. The brunch menu was also a possibility but sadly we didn't have room for that. All was very well presented and cooked in the open kitchen which gives on to the main dining room. Puddings were a real hit – mini puddings are on offer at £1.50 each which means you can try a few and have a spoonful or two of each, which really appealed to us. We tried the mint chocolate brownie and the sticky toffee pudding, both delicious.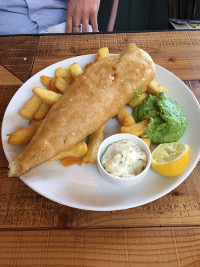 Kids' meals are limited in choice (mini-roasts also on a Sunday) but so often we find that can help rather than hinder matters – the kids went for the cheeseburger and the fish and chips and it was clean plates all round. All kids' meals are £6.50 and they can choose ice cream (£1.50 per scoop) or the mini-puddings for dessert.
The wine list was full and reasonably priced and there are the usual range of alcoholic and non-alcoholic drinks on offer. Service was swift and helpful.
Coming back again to the space itself – there is a separate room for private dining, a long public bar (where you could also eat) with some extra seating in the back in a separate area, the dining room and also a lounge with a log burner, comfy chairs and a super-relaxed vibe. Kids are welcome in any of the dining areas.
We really recommend The Victoria. And I can prove we're not just saying it. My other half was back there within the week meeting a mate for a pint and a burger!
To find out more about The Victoria Surbiton and to book a table, click here.