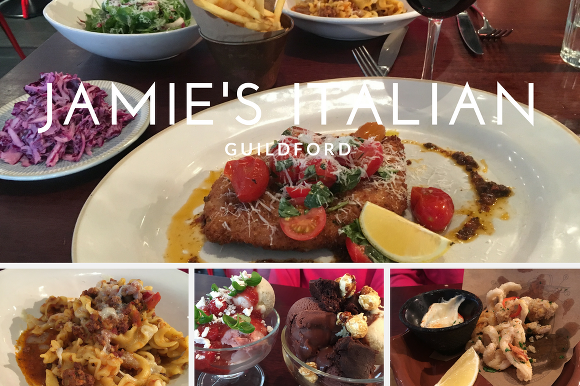 #FeelgoodFriday kicked off early for us last week, with a trip to Jamie's Italian in Guildford to get the weekend going. We were reviewing the Jamie's Italian Quick and Easy menu, ideal for a mid week lunch.
We headed up into the light and airy top floor of the restaurant and were directed to our booth, introduced to our waiter and given a menu to peruse.
Jamie's Italian focuses on presenting Italian food in an accessible way. It's certainly not pizza biased, instead the menu leans on authentic Italian dishes focusing on pasta, meat, fish and vegetarian as well as attractive antipasti presented on rustic wooden platters.
We opted for the Tomato Bruschetta and Crispy squid for starter. Both were delicious. All washed down by a smashing glass of Pinot Grigio, Porta Nova.
Meanwhile the toddler was playing happily with his retro 80s view-master menu, which we adults got more than a little excited about! The kids menu is fantastic, with the two varying sized portions, big and little kids meaning that everyone in the family is catered for.
For mains we went for Free-range Pork Milanese accompanied by a glass of Primitivo di Puglia red and Spicy Sausage Pappardelle (sadly one of us was driving!)
Yes, we powered through to the dessert course despite ourselves, and were richly rewarded with a Mighty Mess Sundae and a Chocolate Fudge Sundae between us. Stuffed! Can't speak…time for a sleep…zzz.
Jamie's Italian Guildford is spacious and roomy, especially upstairs, meaning that you can spread out as a family without fear of overly upsetting your neighbouring table. We would definitely recommend it as a great place to take the kids. If you do sit downstairs make sure you position the children towards the kitchens as they always find watching the chefs at work completely fascinating, allowing you to sit back and enjoy your food and wine!
For more info go to the Jamie's Italian Guildford website.