If you are looking for things to do with your children in Surrey and its neighbouring counties this coming weekend, we have a great range of family friendly events to choose from.
Do check the full calendar to plan ahead.
All week
Feel your hair stand on end and a shiver down your spine as you walk through the creepy corridors of a Halloween Grotto during Halloween Activity Week at Birdworld. Other activities include a spooky activity trail, a Halloween train ride and more.
Room on the Broom half term family fun at RHS Wisley challenges children to find lots of different animals around the garden so they can take a ride on the witch's broomstick. There will also be creepy crafts, fun activities and storytelling.
Half term family fun at Brooklands Museum will include the popular car rides up Test Hill or along the Members' Banking of the old Race Track. London Bus Museum will also be operating bus rides around the local area and there will be children's trails, kids' tours on Concorde and more.
Glue sticks at the ready! Create some magical fairy tale crafts, inspired by traditional spooky fairy tales. This workshop is perfect for all ages and takes place at Claremont Landscape Gardens Monday-Wednesday.
Halloween at The Square in Camberley offers lots of free fun for families including dance and theatre sessions, rhymes and storytelling, arts and crafts and much more. Check for dates and times for each event.
Head towards London this half term for a Beast Quest adventure at Hampton Court Palace. The Dark Wizard Malvel has taken over, bringing all of its resident Beasts to life (as well as some famous faces from history!) Now Tom and Elenna need your help to save the Hampton Court Beasts from his wicked spells.
Wizards and Witches week at Bocketts Farm will include a reptile roadshow, wizard magician shows, a spooky fun trail, animal handling, creepy crafts and a chance to pick a pumpkin to take home.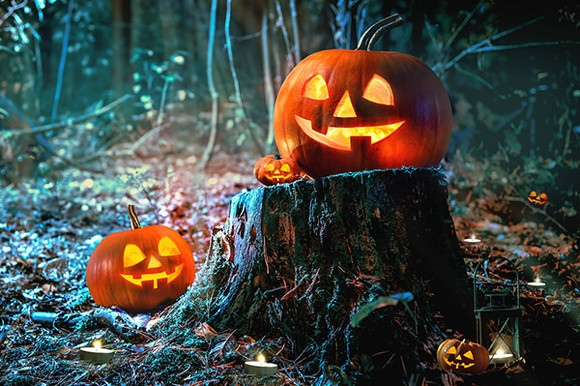 Halloween at Fishers Farm will include ghosts, goblins, spooks, scary witches, tricks, treats and fangtastic fun.
Spooky half term at Godstone Farm week for fun, crafts and games including Pumpkin Carving, Spooky Quiz, Face Painting and more.
Create and Grow is back at the Squire's garden centres and activities available include painting a bat tea light holder, decorating a spooky mobile and a pumpkin pursuit around the centre.
National Trust trails and activities

Weekend, October 20 & 21
The Great Surrey Heritage Show on Saturday is a free drop-in event and will include displays, tours and activities for children – all taking place at the Surrey History Centre in Woking.
Join much-loved children's writer and illustrator Nick Sharratt in a family-friendly, fun filled drawalong for all ages at Farnham Maltings on Saturday. Nick's best-selling picture books include You Choose, Shark in the Park and Pants. He's also the illustrator of Jacqueline Wilson's phenomenally popular children's novels. He'll be showing you how he create characters like Tracy Beaker and Timothy Pope, sharing ways to invent your own crazy creatures and giving loads of top tips as you draw along with him.
The Henfold Birds of Prey will be at Hobbledown all weekend, giving flying displays and talks about these magnificent creatures.
Join in with a Brutal Run at Alice Holt on Saturday – wearing your best Halloween costume. Take part in 3.3k, 6.6k or 10k spooky laps.
Step back in time to experience the magical nature of the Hollycombe Museum at night on Saturday. Enjoy this Edwardian fairground with a spooky theme as the sights, sounds and smells all come alive as darkness falls! This night has a Halloween fancy dress theme.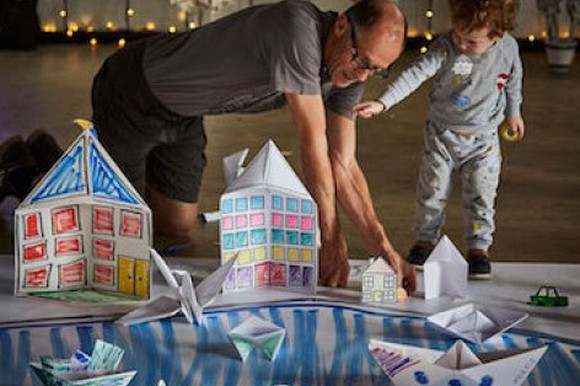 London Bus Museum's TransportFest takes place at Brooklands Museum on Sunday, with bus displays, taxis, commercials, military and emergency vehicles. There will be heritage bus trips, a large collectors' market, music and children's attractions. This event is not just for transport enthusiasts, but fun for all the family.
Create your own song with the help of professional songwriters and performers in a workshop at Farnham Maltings. Explore lyrics, melody, rhythm and more and then perform your song to family and friends.
Budding young artists are invited to take part in The Big Draw in Guildford on Sunday, when workshops will be taking place in The Boilerroom. Workshops are designed to let participants explore new and a creative ideas and cater for those who love arts and crafts and for those who do not but are willing to give it a go!
Open afternoon at Guildford Model Engineering in Stoke Park will include train rides and light refreshments. These events are free and always popular with families.
The Autumn Tree Festival at Painshill Park takes place on Sunday, when you can follow a tree trail, test your balance on the stepping stone log challenge, see horse powered timber extraction and enjoy a traditional heavy horse wagon ride, planting a seed, see lots of demonstrations and more.
Ancient Adventures at Nower Wood invites families on a journey through time, discovering colourful characters from the wood's long history. Try some ancient crafts and learn how people lived in the forest. The trees have many tales to tell...
Monday is always story time at RHS Wisley. Take your children to a 20-minute session in Wisley Garden Library where they can get lost in the natural world of creepy-crawlies and garden adventures.

The creepy crawly roadshow will be at Denbies today, giving children a chance to meet snakes, lizards, mini-beasts, frogs in an inspiring animal encounter.
Tuesday, October 23

Dress-up in your best spooky costume for a vineyard train ride and storytelling at Denbies today (warm clothing is recommended). This adventure includes a chocolate treat for children and a hot drink for adults.
Museums can be magical places with their wonderful objects and their mythical links. Discover some of the magical objects at Haslemere Museum and hear and the stories that go with them in a workshop aimed at 5-11-year-olds.

Learn how to make a haunted house in a spooky Halloween workshop at The Lightbox Museum. Make creepy characters and create your own spooky house for them all to haunt. This is aimed at 5-8 year olds.

Action Stations at Sayers Croft is a day of nature based activities for children with special educational needs and their siblings.
Early Birds at Haslemere Museum is a special event for families with children who have an Autism Spectrum Condition to go along and enjoy the museum away from the hustle and bustle of the general public. The galleries will be open and there will be an opportunity to handle objects.
Take part in The Big Draw with workshops at Guildford Cathedral today, including a session to created stained glass style art with tissue paper. Workshops are designed to let participants explore new and a creative ideas and cater for those who love arts and crafts and for those who do not but are willing to give it a go!
Take part in some creepy crafts and spooktacular baking at Leith Hill Place. Children can make a spooky bat mask or witches hat, a trick or treat bag and mix and bake their own gingerbread shapes.

Need a bit of inspiration for your pumpkin carving? Head along to Pumpkin Carving at Winkworth Arboretum today with your pumpkin and take part in a spooky carving session.
Find out more about bats and make some batty decorations for Halloween during a workshop at Shalford Mill today.
Make some paper pumpkins to celebrate autumn in a drop-in workshop at The Lightbox Museum. This is perfect for little ones who are too young to take part in real pumpkin carving!

Spooky Forest at Sayers Croft invites children to explore the spooky autumn forest, make a witch's broom, a potion for a cauldron and spooky faces on the trees, hunt for spiders and eat a marshmallow around the campfire. Later on in the day there will be a Halloween themed Wild Wednesday.
Thursday, October 25

Wharf Weenies takes place today at Dapdune Wharf. This is an hour-long activity session for pre-school children aged 18 months and over and their adult carers. Each session will involve story time followed by outside games/exploration, and a craft activity.

It's Activity Thursday at The Rural Life Centre. There will be period toys to play with and of course the very popular rocket launching! The giant dolls' house and period toys fascinate the youngest children, while others tackle the pole lathe and 'milk the cow'.
Need a bit of inspiration for your pumpkin carving? Head along to Claremont Landscape Gardens today with your pumpkin and take part in a spooky carving session.
A workshop for The Big Draw event take place in Ash today at the Lakeside Nature Reserve, as part of a family fun day. Produce a large scale painting with a swinging pendulum with the help of artist Becci Kenning.
Make a papier mache sculpture at The Lightbox Museum today. This is suitable for 8-12-year-olds.
Friday, October 26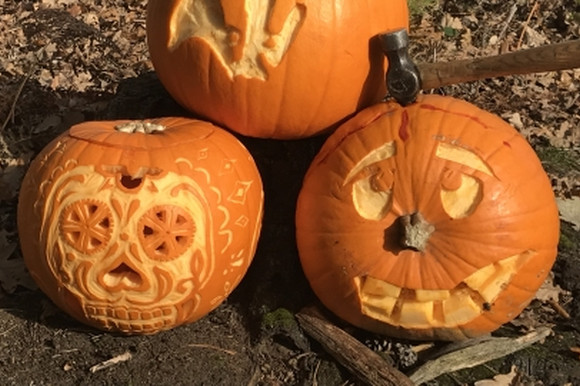 Leith Hill Place will be dressed for Halloween today. Drop by to follow a spooky trail take part in some colouring and crafts and hear a story. Halloween treats will be available in the tea room.
Make spooky Halloween cork bats at The Lightbox Museum during a drop-in workshop aimed at children aged four and over.

Haunted Halloween at Haslemere Museum will offer spooky crafts, pumpkin carving (take your own) followed by a Halloween procession through Haslemere.
When the sun goes down, creatures of the night appear! Venture into the dark with nature experts to discover what really lives in the woods around Halloween time. Carve a pumpkin, then discover the nocturnal mammals, invertebrates and amphibians of Nower Wood. Learn how to set (humane) small mammal traps, use torches to search the pond for amphibians, check the moth trap for visitors and use bat detectors to listen out for their ultrasonic calls. For seven-year-olds and over with an adult.
Weekend, October 27 & 28

All Hallows Eve at The Rural Life Centre sounds like an event for the brave! The floorboards are creaking with sounds of ghosts from long past. Join the ghost train for a magical evening of activities and stories — if you dare (Saturday, 3pm -6.30pm).

It's Wizard Weekend on the Watercress Line – a great event for any Harry Potter fans. Visitors can ride on the Wizard Express steam train in a Harry Potter style coach, walk on the real Kings Cross footbridge from the films, meet some Harry Potter characters on platform 9 ¾, learn how witches' broomsticks are made and much more. Fancy dress is encouraged.
Watts Late: Imaginarium at takes place at Watts Gallery Artists' Village on Saturday. Stay all day for family events and imaginative performance inspired by the inventiveness of Pullen as part of Museums at Night.
The Big Draw series of events continues in Guildford on Saturday with workshops at GLive to make drawings with movement and sound. Workshops are designed to let participants explore new and a creative ideas and cater for those who love arts and crafts and for those who do not but are willing to give it a go!
Leith Hill Place will be dressed for Halloween this weekend. Drop by to follow a spooky trail take part in some colouring and crafts and hear a story. Halloween treats will be available in the tea room.
Experience a night at the museum on Saturday at Haslemere Museum. Explore the dark galleries (bring a torch), to discover the museum's wonderful artefacts - there will even be some spooky surprised in store! Follow the special trail, do magical colouring and listen to magical tales read by staff from Haslemere Bookshop.

The Spooktacular family night time fun run at Dapdune Wharf on Sunday invites you to test your fitness and your fears around the haunted Wharf and Island. This is a 2k run in fancy dress - with jacket potatoes available from 4.30pm, warm up from 5.30pm.
There is a family Halloween activity day and mini disco taking place at the Electric Theatre on Sunday. Show off your costumes and enjoy crafts, dancing, storytelling and spooky fun! There will be a costume competition, face painting, lantern making, games and more.
Drop in to Gatton Park on Sunday for Halloween activities with spooky spiders, wizards and witches and enjoy a trail around the grounds.
Finally join in the 'Unbe-leaf-able' autumn celebration at Tunsgate Quarter, Guildford this weekend where you can enjoy live performances, family entertainment, including FREE children's workshops and many in-store promotions.
We're hoping for a nice bright week with plenty of sunshine for half term. Whatever you end up doing, have a great week!