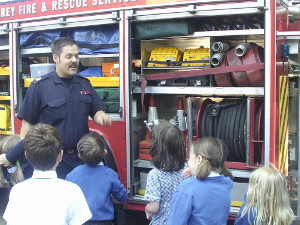 Surrey Mummy reports: KOOSA Kids are generating lots of excitement this term as the After School Club at St Edmund's Primary School in Godalming received a visit from the fire service.
Local fire officers from Godalming Fire Station – CM Chris Dean, CM Andy Fry, FF Paul Sawyer, FF Rob Lawrence and FF Andrew Kimbel alldid a fabulous job of explaining their roles, demonstrating the use of fire-fighting equipment, and explaining the importance of smoke alarms and how they work to save lives. The children were totally engaged in the hour long visit, and particularly enjoyed testing out the heat-source camera. Excitement reached its peak when the children were given the chance to sit in the fire engine and play with an irresistible array of switches and flashing lights. The fire crew reinforced the 'fire-safe' message by presenting each child with a book and poster to take home.
KOOSA Kids would like to thank all officers who took part in this group initiative.
Last year saw children enjoying visits from local police officers, as part of an on-going initiative aimed to provide a fun and informative introduction to the role of the emergency services.
For more information on the breakfast, after school and holiday child care provision offered by KOOSA Kids, please visit www.koosakids.co.ukor call 0845 0942322.