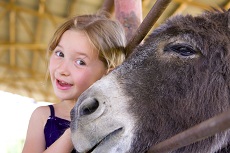 The full line-up for this year's free, family-friendly event Party in the Park has been announced and it promises to provide a great day out.
The borough's second open-air party will return to Woking Park on Saturday, July 13, from 12 noon to 7pm with an extravaganza of music, sport, dance, culture, food, activities, workshops and live performances for all ages to enjoy.
Providing a diverse range of entertainment, Woking Park will be split into different zones, including: a Main Stage, Children's Zone, Youth Zone, Sports Zone, Dance Zone and Tea Tent.
Headlining this year's Party in the Park will be the What's Up What's On (WUWO) Woking Main Stage which will be bursting with entertainment all day long. MC'd by BBC and Roundhouse Radio presenter, Fergus Dufton, the stage will feature an exciting mix of music and dance performances from established local and international bands, and the freshest up-and coming talent.
Kicking off the live music performances will be the indie-pop melodies from home-grown singer-songwriter, Jez Charles, followed by the relaxing soul voice of Scottish singer-songwriter, Kerri Watt. Later on in the afternoon visitors can enjoy the unique sounds of one-man-band, The Focussed Distraction, with his highly distinctive acoustics, sampling and electronic arrangement.
Adding some glamour and comedy to the party will be this year's Britain's Got Talent Semi-Finalists, Meat/Diva. The local couple will deliver a cabaret show with a difference, including tributes to some of the world's greatest music artists. Closing the party in true '80s style will be Mainly Madness, who will bring an authentic Ska experience to the park!
Sharing the limelight throughout the day on the main stage will be Woking Dance Festival, which has programmed an exciting and jam-packed schedule of performances. Experience dance from different cultures from around the world, including Kalamandalam, Malaylee, Nepalese and Chinese dance.
Also on offer will be a range of interactive dance workshops, including extraordinary acrobatics from international circus and street theatre artists, Mimbre and Murmur, and opportunities to get involved in the party's group flash mob or experience the strange phenomenon of the silent disco.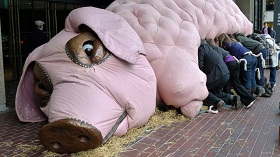 The Children's Zone will play host to a number of entertaining performances for children of all ages. Youngsters can enjoy magical performances by Mr Wizard, be enthralled by traditional Punch and Judy shows, learn tricks from the Big Top in the circus skills workshops, or pet some furry friends and learn how to milk a cow at the mobile farm.
Little visitors can get crafty by helping to build a gigantic castle, or demonstrate their artistic talents at The Lightbox arts and crafts workshop. Venture into a magical world with a journey of words, actions and rhyme to find Humpty Dumpty and intriguing theatre productions that will take place inside a giant inflatable pig (pictured).
Topping off the Children's Zone, will be a bouncy castle, traditional storytellers, face painting, Diddi Dance workshops and lots of other stalls and attractions to keep all the family entertained!
The Youth Zone, hosted by Woking YMCA, is also set to be a hive of activity featuring talented rapper and music producer, MC Solomon, who will defy the laws of sound with his lyrical lines. Back by popular demand will also be award-winning street magician, Pete Hathway, who will dazzle with his magical talents as he transforms lottery tickets into bank notes and makes objects disappear into thin air!
More energetic visitors to the Youth Zone can take part in a range of interactive activities, including: preparing their own fruity summer refreshments by pedalling the Smoothie Bike, challenging their friends to a Gladiator Dual by attempting to knock their opponent off the podium and racing against an opponent in the Bungee Run. Also on offer will be inflatable games, circus workshops and budding Banksys can also add their creative touch to a themed graffiti wall.
Sport enthusiasts are set to score in the Sports Zone, visitors can attempt to 'bend it like Beckham' in a penalty shoot out against Woking Football Club's goalie or flick a winner against Woking Hockey Club's guarded goal. Surrey Golf will also be swinging by with its inflatable golf simulator which aims to improve people's swing and test the length of their drive.
For Wimbledon wannabes, Woking Lawn Tennis Club will be providing taster sessions, demonstrations and tennis challenges for all ages and abilities run by local qualified coaches. And for something new, there will also be the opportunity to try Rock-It Ball, a new sport which is a combination of dodgeball, lacrosse and hockey.
Graham Cundy, from Woking Borough Council, said: "After the success of last year's event, this year's Party in the Park is set to be bigger and better! This free, family-friendly event is packed with activities and performances to suit all ages. We welcome residents from across the borough and visitors from further afield to come and enjoy this spectacular event."
For information on Party in the Park, including the travel information, a map of the park or to view the full programme of events, visit the Celebrate Woking website.