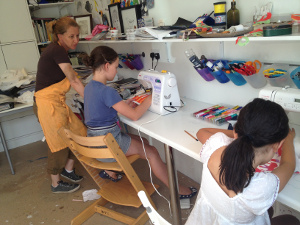 6&7.8.13 Lizzie Harrison Screen Printing Workshop
Hannah, age 10, attended a two day sewing workshop this week at Lizzie Harrison Draw & Stitch. She learnt how to screen print onto a piece of material and then made a cushion from it. She even got to use a real life sewing machine!
Lizzie was always on hand to guide them but also encouraged independence. She explained how to use the sewing machine before they started and had lots of wise tips to get them going.
Lizzie offers several art and craft-based holiday courses covering many different styles and our children are looking forward to trying out a few more.{jcomments on}