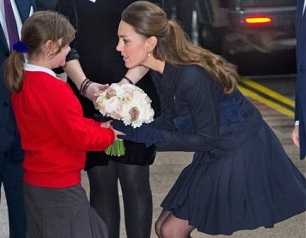 The Telegraph reports: The Duchess of Cambridge, who was bullied as a child, said she was keen to ensure others did not suffer as she attended a conference run by a children's mental health charity.
Her visit to the first annual Resilience and Emotional Strength in Schools Forum, run by the charity Place2Be, was supposed to last for two hours, but the Duchess was so immersed in the subject that she stayed for an extra hour to listen to talks on addiction and self-harm.
Bullying was such a problem for the Duchess of Cambridge as a child that she reportedly moved schools to escape her tormentors.
The clinician and journalist Professor Tanya Byron, who gave a half-hour talk on cyber-bullying before chatting to the Duchess, said: "She was very interested in the early years, zero to five year olds, which I guess is because she's a new mother but also because she's interested."