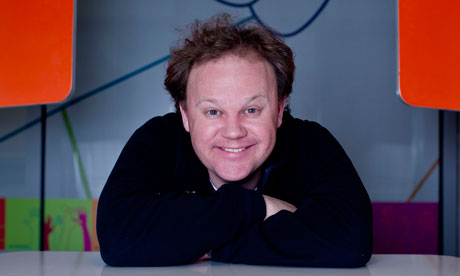 The Guardian reports: Justin Fletcher is already the clown prince of British children's television and now he wants to conquer the world with a big-screen debut.
Such is the popularity of Mr Tumble that Justin is planning a feature-length movie version, hopefully including cameo performances from some of his celebrity admirers, among them Gary Barlow, Simon Pegg, Peter Kay and Johnny Depp.
He said: "I've stayed in touch with Gary Barlow, since we met at the Baftas, and I've had supportive emails from Simon Pegg and Peter Kay, both of whom I love, and I've been told that Johnny Depp brought his kids to a show I did in Bath, so it would be great to get them all involved.
"I've got a nice idea about Mr Tumble going through a regular day and coming across hundreds of children, like a kind of Pied Piper character, and I think it could work internationally, too, as there's minimal dialogue so there's no language barrier. Mr Bean is huge in places like Asia – and look at the success of The Artist."