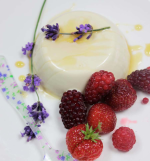 T

his blog is an entertaining guide to the best food outlets in Surrey and is written by food professionals Shirlee Posner and Jane Alexander. They focus on real producers, chefs, food retailers and restaurants and only publish reviews of places they genuinely think should be here.
After working on the Love Food Hate Waste campaign, they teamed up to champion local food. Their reviews are all based on visits they have personally made to each business. Great supporting images illustrate each entry. They also offer recipes inspired by local products: Jane's delicious Heritage Tomato Salad uses tomatoes from Kingfisher Farm Shop and Shirlee's Earl Grey and Lavender Panna Cotta is inspired by the Hothouse Café at the Medicine Garden in Cobham.
Sign up to their site to get reviews hot off the press: shirleeandjaneeatsurrey.com.