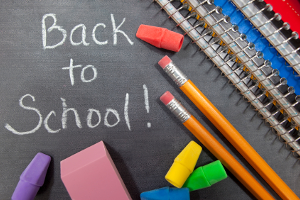 Whether your child is starting school for the first time, or going into a new year group, the start of the new term can bring a mix of emotions.
After a nice long summer at home, children can often find it hard to get into the routine of going to school every day, especially once the initial excitement has worn off.
We have asked some primary school teachers how parents can support their child at home and help to make their school life a positive one.
Liz Nelson, a reception class teacher at Worplesdon Primary School, says: "One of the main causes of anxiety for children when they first start school is that the parent is not going to come back.
"Stress that you will be back later, you are coming back and you are looking forward to hearing about what they have been doing at school and telling them about your day. Then leave them quickly, don't hang around."
She also suggests that if your child is grumpy about going to school in the mornings, try finding different and fun ways to get there (or just from the car to the gates if you have to drive). Use a scooter one day, do a bug hunt walk another day, roller skates and so on.
She adds: "Ask the child each morning how you are going to get to school, to make it more interesting."
Teachers stress that having classmates back for tea is a great way to help children form friendships. If you are not sure who to invite, ask the teacher who your child has been playing with.
Mrs Nelson says children are often really tired at the end of the day and might not want to do their reading or even tell you about their day to begin with. It is best to let them have some time to chill out before asking them to do anything, and parents should never force them to do things like reading if it is causing upset.
She adds: "Try letting them read their favourite comic or something, and just get them interested in reading.
"Also, try to find 10 minutes a day of individual time just for them, this is really important."
Another way to support the schoolwork is to talk about it as part of normal life. Look at road signs to recognise letters and numbers and talk about their class topic when you are out and about.
Mrs Nelson says: "Learning is a partnership between the school and the home and the home can be a great place for backing up what is being done in school, although don't try to introduce new learning before it has been covered at school."
Jacqui Pote is a primary school teacher who is currently taking time out to bring up her own children.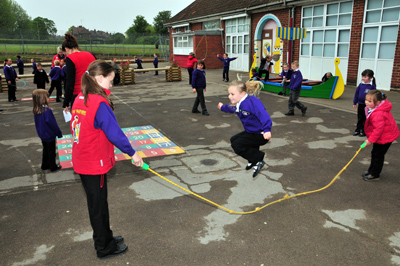 She says: "Firstly, always make the school aware of any problems the child is having, so they can keep an eye out. Sometimes all that is needed is for a teacher to ask a couple of children to do a 'special job' at playtime and a friendship can be made. There may also be procedures that the school already has in place that you are not aware of such as a friendship stop or using older children in the school as 'buddies'.
"The school may also allow children to take things in like skipping ropes. This gets them involved with a group of children. "
She says it is important to talk about your own school days as a positive experience, adding: "This gives them a sense that everyone went to school and got something out of it."
If your child is having problems saying goodbye in the mornings, arrange to meet up with a friend so they can go in together.
Mrs Pote adds: "This can be a good distraction technique! Also, don't linger or make a fuss - children are usually totally fine once the parents have left! Star charts are good too!
"Make time to talk about your day, maybe at bedtime; talk about the best and worst bits of your day - child and adult!"
Homework can often be an area of concern as your child moves further up the school.
Mrs Pote advises: "Make a quiet time to do homework. Be honest, if you can't do it, say so! Then talk about how you will find out together!
"Parents are often not happy helping with homework in case they 'do it differently' - especially as the child gets older and the homework gets harder. Ask the child to show you how they have been taught to do it at school. And again, let the teacher know of any concerns."
Finally, go into school and be involved if you have the time available. Then you can talk to your child about the classroom experiences.