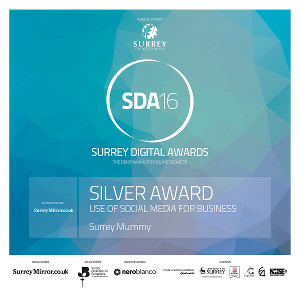 Welcome to our award-winning website...
We have won the silver award at the recent Surrey Digital Awards for the past two years for Use of Social Media for Business. This achievement was the result of many hours of hard work by every one of us in the team and we feel very proud to be winners. Read more about the 2015 Silver award or 2016 Silver award.
Surrey Mummy is here to make your lives easier. We can't find anywhere else on the web that provides such a comprehensive wealth of local information for Surrey parents. We know parents need a little inspiration once in a while and that you can sometimes spends hours browsing the internet, trying to find what you are looking for. We're hope you will return time and again.
Penny - Founder & Editor
I have three children and have lived in Surrey for over ten years, having been brought up here. I have a marketing background and I came up with the idea for Surrey Mummy following a comment from my sister, who had just moved to Surrey, about the type of website that would be really useful to her. I have a hand in everything on the website, from writing features, finding new ways to promote us, selling advertising space and managing the business strategy and team as well as dealing with all the technical aspects of the site. I have loved every minute of Surrey Mummy so far, seeing it grow from an idea to a website that is used by hundreds of people each day. Email This email address is being protected from spambots. You need JavaScript enabled to view it. to discuss any aspect of the website.
Lisa - Editorial
I am a mum of two girls and a qualified journalist. I have worked in both print and online media since the age of 18, as both a writer and editor. I took time out from my career whilst my children were small and am now working as a freelance writer and editor (mostly just during the school hours!) My role at Surrey Mummy is to write many of the features, edit the content and come up with lots of ideas for articles and additions that I think will be of interest and use to our readers. Please contact me at This email address is being protected from spambots. You need JavaScript enabled to view it. with any ideas you have!
Ruth - Social Media
I've joined the Surrey Mummy team to manage the Surrey Mummy community and social media. My two children are now at school and I've lived in Surrey for the past ten years.
Maria - Events
I am born and bred in Surrey and have two sons at primary school. I am delighted to join the team to help increase the breadth of coverage of news, events and activities that we provide for our readers.
Surrey Mummy has its roots in West Surrey but we are keen to cover as much of the county as possible. For this reason we may well have missed something, so please let us know if this is the case. Do check back frequently if we haven't covered your area yet.