It can be a struggle knowing how to juggle the growing list of motherly duties when you've got a new-born, with disrupted nights and constant clean-ups becoming a huge part of your new life. However, it's important to make sure you're caring for all parts of them correctly, including their feet.
Babies' foot development is crucial to their walking quality later in life, so knowing the rough stages they should go through, as well as what's normal and what isn't, will help your little one to get off on the right foot. So, for more information on how to care for your child's tiny feet, read on.
The foot development process
It's important to know what's normal and what's not. Additionally, knowing when changes should occur in your child's feet will ensure you're aware of when to seek help from specialists. So, make sure you familiarise yourself with these key development stages:
3–6 months:Your baby's feet will comprise primarily of cartilage-like tissue that has gaps between the layers. This means that their feet will be very flexible, and you might find that they're able to bend out of shape — this is painless to them, so don't worry too much about it when they're barefoot.
However, if their feet move into these unnatural positions while they're wearing shoes, it could be hard for your child to bend them back, leading to injury. To avoid this, pick shoes with flexible soles and soft inner cushioning to provide optimum comfort and support.
6–9 months:When your baby begins to walk, the pressure on their feet makes the tissue ossify into bone. At this stage, their feet will grow quickly, so make sure every pair of shoes you choose has at least 1cm of growing room in the toes and prioritise grippy textured soles to support them while walking.
2–4 years:By this point, the layer of baby fat on their feet will have melted away, revealing a more mature shape. But be aware that, although they now have all of the bones necessary for normal development, these won't be properly fused until adolescence.
If you notice your child's feet are particularly flat at this stage, don't fret! Most children of this age have flat feet that should develop arches later on.
4+ years:After what will seem like a period of non-stop shoe shopping, you child's feel will grow much slower once they hit the age of four. As they will be up and about now, getting shoes that can withstand their daily play sessions will be key.
Remember that these are only guidelines, and every child will develop at their own pace. But, if you are worried about anything, don't be afraid to share your concerns with a doctor who will be able to help.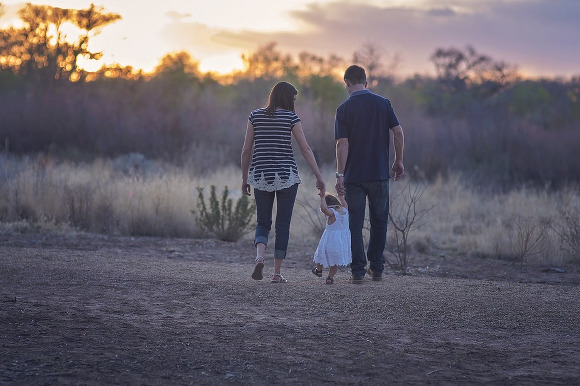 How to pick the perfect first pair of shoes
It's recommended that your baby spends plenty of time barefoot to encourage natural movement and flexibility in their feet. But, before you know it, they'll need their first pair of shoes, so make sure you know how to pick the most suitable pair for your little one.
Footwear specialists Charles Clinkard recommend:
Getting their feet measured every 6–8 weeks

Choosing shoes that have room for growth

Picking leather and synthetic shoes, which are soft and comfortable as well as supportive and breathable

Prioritising adjustable fastenings like Velcro straps and supportive structures like padded ankle collars
It's generally much easier to check when the length of their shoes is too small, as opposed to the width, so make sure you're frequently checking both. To measure the length, press down on the front of the shoe — their toes shouldn't feel squashed or right at the end of the shoe. For the width, place the tip of a finger down the side of the shoe at the instep (the arched middle section of the shoe). If your finger doesn't fit in comfortably, it's time to head back to a shoe fitter for a new pair. And, as a quarter of infants will outgrow the width of their shoes before the length, according to Podiatry Network, it's particularly important to keep an eye on this to ensure their foot development isn't hindered by ill-fitting shoes.
Issues to watch out for
Your little one's feet should be well-developed by the time they turn five, but it's important that you're aware of any problems you need to be looking out for. Tip-toe walking, out-toeing, and in-toeing are among some of the issues you should keep an eye out for. These will usually correct themselves with age but, if you are concerned, it's always best to get them checked out by your family doctor or paediatrician.
For more information on these development issues, visit the NHS's guide to infant leg and foot problems.
Remembering what you need to be watching out for in your child's foot development can be challenging, but the results of a happy and healthy child will be worth it. Follow the tips in this guide to ensure you're caring for their feet correctly — they'll be up and about in no time!