Mention Bing to any family with pre-school kids and you're guaranteed to get a knowing smile in response. Not just because of its popularity with tots - Bing is the top-rated pre-school show on BBC iPlayer - but because, as one parent at the playground puts it, "watching Bing is like tuning in to a reality show of my life as a mum - albeit a calmer, quieter version."
The show's protagonists may be animals (for the uninitiated, there are bunnies Bing, Coco and Charlie, elephant Sula, panda Pando plus their carers, Flop, Amma and Padget) but they're really just like little people: excited, tripping-over tots lapping up the messy, happy moments that make up preschool life.
It's no coincidence that watching Bing and Sula squabble over sharing a balloon or dropping a just-baked cake sees the average parent wondering if the show's producers have been eavesdropping on their parenting lives. For as well as 23 writers, there are two Montessori teachers, four education experts and child linguists working on each Bing script. Their aim is to create a programme that's just as likely to teach parents a patient way to help a toddler through their tantrum as it is to give that child some quiet time in their day.
So when producers mooted the idea of Bing Live! - a UK tour of more than 50 venues - they called in the brightest creative stars in their field. After all, the TV show's an International Emmy Award winner which lured Shakespearean actor and Oscar-winner Mark Rylance to make his TV debut, voicing Flop.
With Bing Live! brought to life by magical puppetry, producers turned to Tahra Zafar - the animatronics and costume maestro whose career has included working with the Queen on her first ever acting role (at the 2012 Olympics' Opening Ceremony) as well as blockbuster shows from Harry Potter and the Philosopher's Stone to Star Wars VII.
The latter, says Tahra, was "a real, pinch-myself moment as I stood on set with Harrison Ford and Carrie Fisher, the stars I'd grown up watching, thinking - 'wow, this is my job!'".
So how did Star Wars and the London 2012 Olympic ceremonies lead to Tahra designing the stage characters for Bing Live!?
"There might not sound like a lot of crossover but I've needed skills picked up over decades in film and theatre to work on Bing - it's been a pretty big challenge," the 53-year-old explains.
"We had to find a way to turn much-loved, animated animals into stage-sized beings that are large enough to tell a story in a hippodrome but also small and relatable enough for really young kids who are used to a telly-sized Bing, and perhaps one that they tuck up into bed every night."
Tahra admits to feeling "a huge sense of responsibility" whilst working on Bing Live! because its toddler ticket-holders are "very likely to be on one of their first ever forays to a theatre." She explains: "I grew up in the entertainment industry- my dad was a choreographer, and mum a dancer - but I still remember one of the first proper performances I saw: Pickwickwith Harry Secombe in the West End. I was really tiny and obviously didn't take it all in, but the excitement and dazzle got me interested in theatre for life.
"I'd love for Bing Live! to get kids feeling that creative 'wow' too. That's why I'm really passionate about working on pre-school theatre."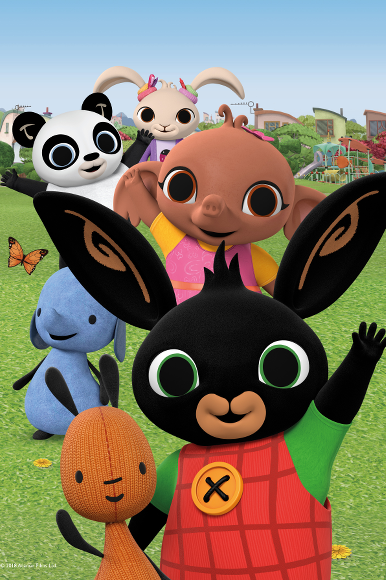 In the fast-faced, constantly-comparing world of social media and Instagram parenting perfection, "Bing is the antithesis of all that," believes Tahra, whose own daughter is now 14. "It celebrates the details of life, when it's alright for things not to go well, because that throws up another opportunity. It's the opposite of the perfect life that we're all meant to have."
Tahra's career has certainly been fast-paced: after studying Theatre Design at Central St Martins, her first job was buying costumes for the English Shakespeare Company; her next was working on Phantom of the Opera, "buying one-off vintage fabrics like silk kimonos from around the world."
Then she moved into film, working with the world-famous Muppet Christmas Carol-maker Jim Henson Creature Shop. "It was extraordinary - a huge building in the heart of London's Camden Town in the Nineties," remembers Tahra. "There was an electronic area full of machinery; a mould shop with plasterers and fibreglass, a sculpting room, and, upstairs, a digital focus that - back then - was so futuristic but is now commonplace. Whenever the real Kermit puppet came to visit from New York, we all loved having our photos taken with him and Miss Piggy."
Then there was the call from Slumdog Millionairedirector Danny Boyle that led to "the most incredible opportunity". As head of costume, hair and make-up for the London Olympic and Paralympic Opening and Closing Ceremonies, Tahra oversaw the completion of 23,000 costumes, dressing everyone from waving children to David Beckham and the Queen.
"I worked on the Olympic shows for 18 months," Tahra remembers, beaming. "It was endless rehearsals, long days - we had four shows to deliver, working with a cast of 17,000 volunteers - and there was constant negativity in the press about the London Olympics, but we knew from the go that the Opening Ceremony would change all that and be really special. We couldn't wait for everyone's reaction."
Tahra set herself the task of using only British manufacturers for the costumes - "with all our funding coming from the taxpayer, I felt we had a responsibility to put the money back into the local community." That wasn't the only challenge - "the ceremonies were a mixture of a live event, with everyone in the stadium watching with birds-eye-like views, and a film - with everyone at home seeing all the jewel-like details in the costumes."
Then there was a certain matter of the Queen, who famously joined Daniel Craig's James Bond to 'fly' into the Olympic stadium. "I had an amazing time working with Buckingham Palace," Tahra recalls. "I visited the Palace a number of times for meetings - I couldn't believe little old me was going in this big entrance to see the Queen, with hundreds of tourists outside with their cameras saying, 'who's she?!'"
At security, Tahra was asked to fill in her personal details "and I was faced with the best drop-down box I'd ever seen - it took me ages to find the 'mrs' I was looking for because there were so many other options - 'admiral, lord, lady, countessess…'"
Then she did at last get through the barriers to meet the Queen. "She was just lovely - and one of the things I noticed most was her really beautiful skin!", Tahra giggles. "She was so interested in all of our plans - we had to make multiple copies of her outfit made, and of her exact jewellery - because of course it wasn't actually going to be her parachuting out of a helicopter.."
On the opening ceremony night itself, "I was running around like crazy all day, but for the arrival of the Queen, when the helicopter came in, I ran to the entrance of the stadium and just watched that moment and everyone's reaction. I'll never forget it."
Buckingham Palace might seem a long world away from CBeebies favourite Bing but the show's puppets have also been honed to perfection. Flop alone took Tahra and her team four months to create. "We had someone knit a prototype Flop, then a specialist lady dyed wool the perfect colour, then another knitted more prototypes, then we developed Flop's puppetry… On stage, you see one finished object but many different people with different skills have been involved in creating it."
Making Bing and friends, then, has been a gently slow, old-fashioned process; the same is true, Tahra adds, of the experience of the Bing Live! stage show for everyone in the audience. "I love that puppets, like the characters themselves, are expressive, forcing us to suspend our imagination, and all be like children.
"We're all going faster and faster in modern life, and it's important to have those moments to quieten down - I hope that's what Bing Live! lets families do, so that the adults of the future will look back on and say, 'I remember going to see Bing at the theatre in NAME OF VENUE, it was one of my really happy childhood times."
Mini interviews with Bing Live! Director, Will Tuckett and Stage Writer and Adapter, Helen Eastman.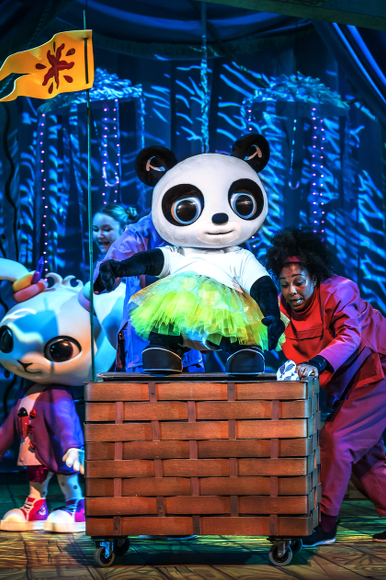 Will Tuckett
How is the tour going so far?
"Watching audiences around the country watching Bing Live has been a wonderful experience. When people are watching something and enjoying it, it's one of the best things imaginable. A little girl behind me stood on her mother's lap the other day singing one of the songs in the show at the top of her lungs without much sense of tune or rhythm, but the look on her face and her mum's face, and her grandpa's… and the gusto with which she joined in… she was just totally loving it without any filter whatsoever! If you could take that home, that joy and energy, and pop it in a drawer so you could take it out whenever things felt a bit blue… well then you'd never have another grey day for the rest of your life".
How has it been working with the Bing Live team bringing Bing to life with Puppetry?
"Tahra Zafar (The Bing Live Puppet and Costume designer) is an incredible collaborator. Not only is she very, very experienced from her time working cross a myriad of projects involving puppets and creature creation on Star Wars, Harry Potter and with Jim Henson, but she is also one of the most open and generous creative people one could hope to meet. Working out how to transfer 2D characters into a 3D world is never straightforward and we spent a lot of time in her studio working out dimensions for scale, puppet handles, grips, harnesses… and that's before she starts looking at the mechanics to make the puppets blink, walk, stretch, have ears that move… the list goes on and on! Wonderfully, when you look at the puppets you would never be aware of the complicated inner structures but that is the amazing thing about both Tahra and her incredibly talented team. They make the imagined real which is a pretty awesome skill!"
Helen Eastman
How do you bring a TV animation to life for the stage?
It is really important to remember how well our audience know these characters, and our responsibility to bring them to life in a way that feels instantly familiar. However, theatre is a very different medium to television, so it is an opportunity to take exciting new directions.I started to write 'Bing Live' by thinking about the exciting experiences our characters could have in a theatre, which they could share with an audience. And things which our audience could participate in, because this is a live show. For many of our audience this may be their first trip to the theatre; we want them to love it as much as we do!
So, I started by spending lots of time with the characters (I've watched every episode of Bing multiple times and it helps that I have a three-year-old who wants to watch with me). I also explored the books, website and all the ways that our children have come to love Bing. Then started to think of the right story to tell.
Why are using puppets for Bing Live?
Well, as all Bing lovers know, Bing is much bigger than Flop, his carer. The size dynamics of the characters are important, and puppets allow us to get that scale right (otherwise all the characters would have to be human size). Puppets are magical and allow us to create our characters without having to turn them into people. Children have such huge imaginations they will be swept up into Bing's world straight away.
Who will love Bing Live and what can audiences look forward to?
If you love Bing, you'll love Bing Live! You can look forward to seeing your favourite characters come to life in front of you and join them in their story. There'll be plenty of interaction and fun to be had, and lots of music and songs. We are sure that "Bingsters", parents, grandparents and siblings will love the show too... truly a great experience for the whole family.