Table manners are an essential but sometimes easily forgotten life skill to crack. Let's face it, in today's busy world, our lifestyles mean that meals are not always taken as a family and we parents do not always have time to pick our children up on their table manners. But this certainly does not mean that we don't care about the table manners of our own children.
Enter Nana's Manners, who have introduced a cutlery set that makes learning to hold cutlery correctly fun, easy and enjoyable. With their ergonomically designed cutlery to help smaller hands to the correct positions, the idea is for mealtimes to become more about chatting, laughing and connecting.
The cutlery is the brainchild of mum and teacher, Kathryn Baldrey-Chourio, who noticed that whilst there is an abundance of baby and toddler cutlery available, little to no thought has gone into products designed for school aged children.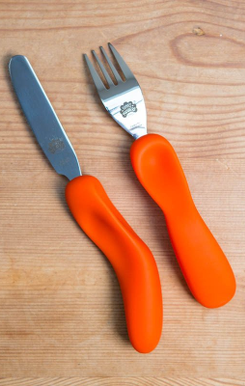 So, how does the cutlery work? Well, the cutlery is designed with a patented shape that supports the 'tri-grip' position and fun finger stickers that match each hand to either the knife or fork, to guide little hands into the correct positions. The cutlery looks appealing too and the packaging is recyclable.
A real benefit is that using the cutlery increases confidence and independence in the targeted age group of 4 to 5 year olds, as they place their little hands in the correct place with no adult help required. Priced at £19.95 for a set, they will last for ages.
A fun little add-on, our pack came with conversation cards, which our 5 year old produced at meal times and proved to be great fun for all the family to discuss over dinner.
Unfortunately the cutlery is not dishwasher safe, but it does just take seconds to clean by hand.
We even got our older children to use them for one meal each (don't tell!) so that they could understand the correct positioning. A real winner all round, we think this cutlery is 100% fab.
For more info go to the Nana's Manners website.
**STOP PRESS** Kathryn can be seen on a recent edition of Dragons Den on BBC2, pitching Nana's Manners to the dragons. She did a storming job and managed to secure the backing of one of the dragons!! Watch the episode here